Pooches & their pals: Meet Guus & Amber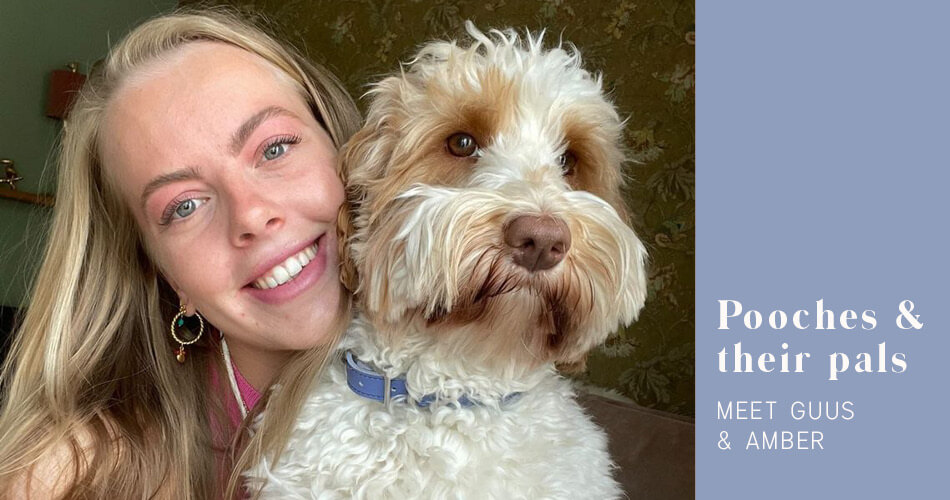 "Guus is a very vocal dog. Sometimes we have the idea that he is telling us whole stories in his language."
Hi, nice to meet you. Can you briefly introduce yourself and Guus?
My name is Amber, and I am 21 years old; I study international business administration in Rotterdam, and I live with my parents in Almelo. I also work at a digital marketing agency, and I love sports and travelling!
Guus is a 1.5-year-old Australian Labradoodle. He came from a breeder in Zeeland and was the only one in the litter with spots (they call that parti). He was the loudest litter and was quickly nicknamed "Honky" by the breeders.

In what way has your life changed since Guus arrived?
In the middle of the Corona pandemic, we got Guus a few months after our previous dog died. I had secretly subscribed to some lists of breeders. I thought it would take several months to years before we would qualify because Labradoodles are popular dogs. But I had friendly contact with a lady from Zeeland, and she told me that a spot became available on their waiting list for the upcoming litter. They had to get used to the idea at home, but soon everyone was over the moon!
We had no choice because we came last on the list, but we are thrilled that Guus was the last one left because he is such a sweet and handsome dog!
A puppy during COVID made things a lot more fun. I spent a lot of time learning everything about Guus, and I also started keeping an Instagram for Guus – mainly because I liked Guus's photos so much and wanted to do something with them. Today the day the account has grown, and Guus has many friends on Instagram. I especially like this because I have enjoyable contact with the owners of the dogs, and sometimes we also meet so that the dogs can play with each other!
So my life has mainly changed because I always have a happy dog ​​around me and have met many new people!
On your IG, you can see that Guus is very busy with "neighbourhood watch" how did this passion arise, and how is it going?
We had a bay window in our old house with a couch that Guus liked to hang out on. He wanted (I think) to see what was happening on the street. He also wanted to lie there because he could always see us coming when we were away from home, very cute.
I made a story on Instagram about it once because I thought it was so funny how he was always there. That was then picked up by some friends of Guus, who showed the same behaviour.
We now live in a new house, next to a hiking trail, where he can snoop around all day. So it has become more extreme here than in the last place, so we started to joke that Guus looks like a neighbourhood watch. Guus is now the neighbourhood watch of our street, and other dogs have also identified themselves as neighbourhood watch.

What do you prefer to do when you have a day off?
If we -or I- have a whole day off, we start the day cuddling in bed. Guus always takes a toy with him as a present; very sweet. Then we go for a nice walk, which is lovely at our house. He can walk off-leash for a while. After that, Guus would be allowed to swim because he is crazy about swimming. And after that, it is time for his spa(w)-treatment. So we especially like being outside a lot!
For which food/snack can you wake Guus up at night?
Guus, like many other doodles, is a picky eater. He doesn't want to eat just anything, and he will first investigate new things extensively before deciding whether or not to eat them.
But what he likes is his food, which is fresh meat. And he loves all snacks with chicken or beef in them! And another favourite of his is a hard-boiled egg. He already licks his mouth when he sees the egg 🤭

Finally, what is one fact about Guus that you would like to share with us?
Guus is a very vocal dog. Sometimes we feel as if he tells us whole stories in his language. That's funny because you saw that even in the nest, where he was called Honky.
Whenever we come home, even if we were only gone for 10 minutes, he greets us loudly with his talk and squeak. We think it's super cute and have fun with it :).
Favourites of Guus