Benefits of plant-based dog food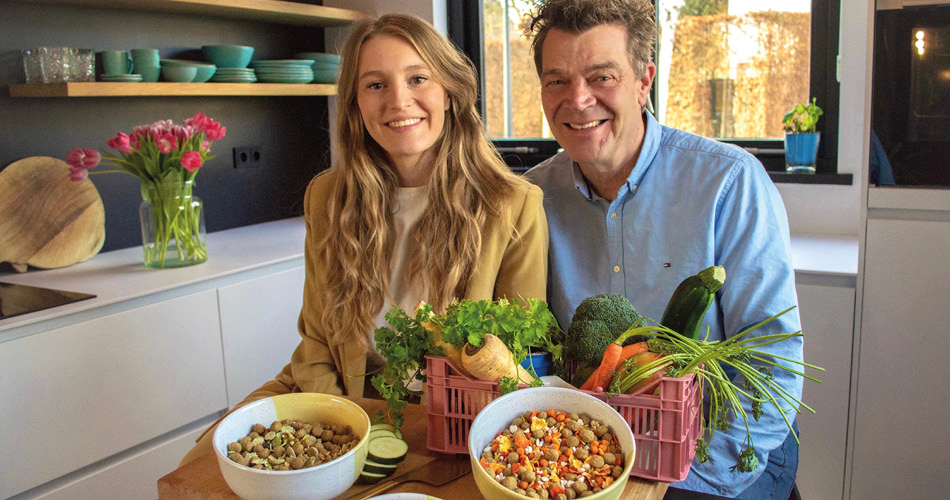 Plant-based foods are becoming increasingly popular; they are suitable for our health and our planet and save many animal lives. With all these benefits, plant-based eating is the trend and indispensable. We also see more and more plant-based dog food emerging, but is this good for our four-legged friend?
We discussed this with nutritionist Fia Luijerink and veterinarian Erik Luijerink. Together they started the plant-based dog food brand PAWR. A new kind of dog food, richly filled with superfoods from Dutch soil. They want to reduce the impact of our four-legged friends with their sustainable food.

Can a dog eat 100% plant-based?
Yes, a dog can certainly only live on plant-based food. Over the past 15,000 years, the dog has adapted to humans and changed its behaviour and digestive system. This allows a dog to properly receive all nutrients through vegetable ingredients, but choosing a high-quality complete diet with a full amino acid pattern is essential due to the suitable proteins. As a veterinarian and nutritionist, I have many years of experience with plant-based nutrition, and I am convinced that plant-based food is a perfect basis for a healthy and happy dog's life.
PAWR
PAWR is the first complete plant-based dog food company in the Netherlands. They make the future dog food sustainable, plant-based, and packed with superfoods. When founders Fia and Erik found out how significant the impact of our four-legged friends is, they were in shock. As a nutritionist and veterinarian, they created PAWR. PAWR's mission is to reduce the impact of our four-legged friends. They want to do this by making plant-based dog food the norm. From years of experience with plant-based dog food, they have developed 3 products from Dutch soil in 100% recyclable packaging. This way, you not only choose a healthier diet for your dog but also contribute to making the world around us more beautiful.
Plant-based dog food for every pooch
PAWR wants to be accessible for every dog, so for planty pups and flexiterriers, they say themselves. In this way, every vegetable meal contributes to a low pawprint. Changing food, therefore, rarely causes problems with plant-based dog foods. Plant-based foods are naturally hypoallergenic and easily digestible. This ensures that switching or switching is easy. Fia and Erik do say that puppies need puppy food first for the best growth. PAWR now only makes food for dogs from 1 year old.

Benefits of plant-based dog food
1. Less taxing on our planet
You probably already knew that plant-based food is better for our environment. The production process produces less CO2 emissions and less land and water use. In addition, methane is not released; this greenhouse gas is 25 times as polluting as CO2. The Swiss research agency ESU-services shows that feeding a dog for a year is equivalent to a car journey of 3,677 kilometres in terms of environmental impact. This is about a car ride from the Netherlands to the Sahara! An average dog is assumed and is, therefore, more significant if, for example, you have a Golden Retriever, Rottweiler or other breeds above 15 kilos.
2. Plant-based dog food saves a lot of animal lives
20% of all meat and fish produced worldwide goes to animal feed. Switching your dog to a plant-based diet can save many animal life. For example, a Beagle averages about 500 chickens throughout its life. As a dog lover, letting other animals roam around is excellent.

3. Healthy lifestyle
Plant-based foods are easily digestible, rich in fibre and packed with vitamins and minerals. More and more people consciously choose to leave meat and fish behind for their health. Research shows that vegetables can reduce the risk of diseases in dogs. The living environment from which meat and fish come is not always clean, which creates an environment with harmful substances such as oil, plastic, lead and antibiotics. It cannot be ruled out that small residues are present in the meat and fish consumed; you can ask yourself whether you want to give this to your furry four-legged friend.
4. Plant-based dog food is naturally hypoallergenic
The most common food allergy in dogs is to chicken or beef. Vegetable proteins are naturally hypoallergenic. This means that dogs rarely have an allergy to it and therefore experience no discomfort such as itching, diarrhoea or hair loss. We have years of experience with plant-based dog food with great results and see that even the most sensitive dogs, such as allergic dogs, do well on a plant-based diet.
Feeding your dog completely plant-based is possible when you find good food such as PAWR. Providing your dog flexitarian is possible if this does not feel right for you. Changing food is, therefore, no problem because the food is hypoallergenic. This rarely causes an allergic reaction or other discomforts.
Want to learn more about Pawr or try their delicious food? Check www.pawr.nl