Raising a puppy: 10 tips to become the most sustainable puppy parent.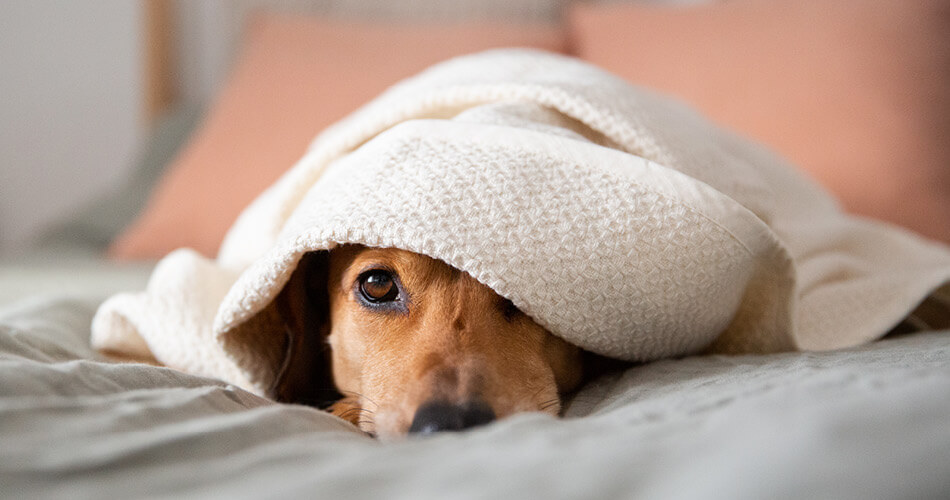 Raising a puppy: 10 tips for a "low on paw-print" lifestyle of your pooch.
Raising a puppy, is there anything more fun? But did you know that the way you raise your puppy and the choices you make  have an impact on the environment? Of course, we can imagine that you are over the moon with the arrival of your puppy. You will, therefore, probably not immediately consider the impact of this can cause on the planet. But how can you raise your puppy and also make responsible choices? Here are 10 tips to become the most sustainable puppy parent.
1. Adopt don't shop – Adopting a dog.
Many dogs are still waiting for a "furever home." Adopting a dog is not only a wonderful way to find your best friend. You also save a puppy from a hopeless situation by giving it a home. Bo, the dog of founder Denise, came to the Netherlands through the HomelessDogs foundation. With Bo, Denise has found a friend for life. Because more dogs like Bo are looking for a "home," Pawness donates 10% of the profit to good doggie causes.
If you consider to adopt a dog yourself, take a look at the HomelessDogs website or a local animal shelter. By adopting a pooch, you know for sure that you will raise the most grateful puppy.
Since this year we work togehter with Perro&Co. They work together with the Portuguese foundation Guadi Centro de Animais and support them in disease prevention, castration projects and education. Besides that, they also help pooches in the shelter to find their furever home. Read the full story of Perro&Co here.
2. Do not leave a "present" behind.
The excrement of your four-legged friend is one of the major causes by which diseases are spread.
So, never leave a number 2 behind, but pick it up nicely. There are different ways to do this; with a scoop or a bag. We prefer compostable bags. The bags are easy to take with you during your walk. You can easily attach the roll to the leash in a poop bag holder, so you will never forget to bring it. Also, the bags are easy to use without getting dirty hands. And when you've picked everything up, you can throw it away just as quickly.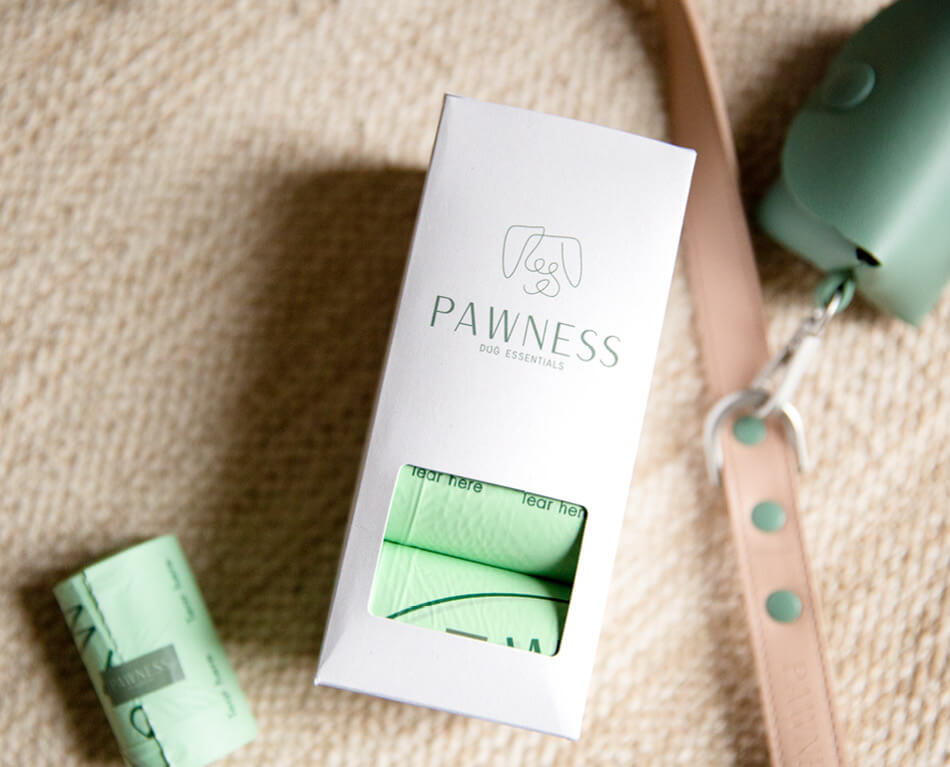 Compostable poop bags
The compostable bags from Pawness are incredibly suitable for this. Because they are compostable, this gives the "present" a better chance to break down. Also, they do not contain substances that are harmful to the environment.
3. Give your dog responsible food.
The production of the food for your four-legged friend can be a major burden on the environment. It is, therefore, essential to take a good look at which brands are visibly committed to a positive impact. By this, we do not only mean to have a positive effect act on the environment but also animal welfare and people. Because there is so much supply, it is good to discuss the food choice with your veterinarian, if you cannot find out yourself.
If you have sufficient knowledge about nutrition, you can, of course, also make this yourself. That way, you know exactly which nutrients are in it and where the ingredients come from. Another advantage is that your pooch always has fresh food.
Recent studies also show that a plant-based diet is perfect for your four-legged friend. You can find the article which The Guardian published here.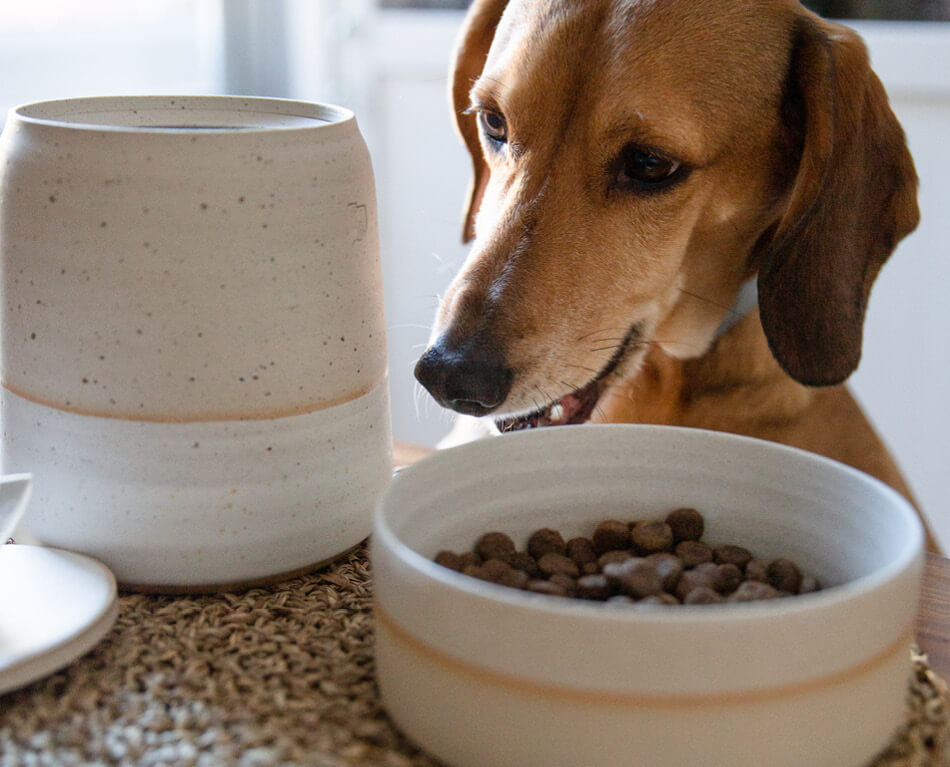 Ceramic Food Bowl – White
We are very enthusiastic about the organic, sustainable food and plant-based food of Yarrah, Ami and Pawr. In addition to dry food, they also have wet food, snacks, and cookies in their product range.
4. Dogs love cookies – make them yourself.
There probably is not a single four-legged friend who doesn't get enthusiastic about a tasty snack. And the great thing is, you can easily make them yourself. There are several simple recipes to bake something delicious for your pooch. Consult your veterinarian first to ensure that the ingredients you use are safe and healthy.
Get some inspiration from the following recipes for yummy cookies that you can easily make yourself.
More sites where you can find the most delicious recipes:
– Fluentwoof
– Your Dog Advisor
5. Use all-natural grooming products.
It is important to take good care of the skin and fur of your four-legged friend. Just like with food, there are a lot of care products on offer. It is good to switch to all-natural care products to protect your pooch and the environment. Natural care products are free from palm oil, parabens, artificial colours, synthetic fragrances, animal suffering, SLS, and EDTA.
Besides, they only contain natural ingredients such as botanical and essential oils.
It is not always necessary to wash your four-legged friend, but freshening up may be enough. This saves a lot of water and time, so more pawlitiy time for you. You can use a conditioning spray to refresh and care the coat and skin of your dog in between washes. This spray nourishes the skin, gives a beautiful shine to the fur, and removes unpleasant odours. It is also essential to brush the coat regularly. You need to adjust the frequency depending on the type of coat. Some furs require more care (long, wire-haired, and curly fur) than others (short-haired fur). By brushing the fur regularly, you remove loose hair and dander. This keeps the skin and coat in good condition and prevents tangling and felting of the fur.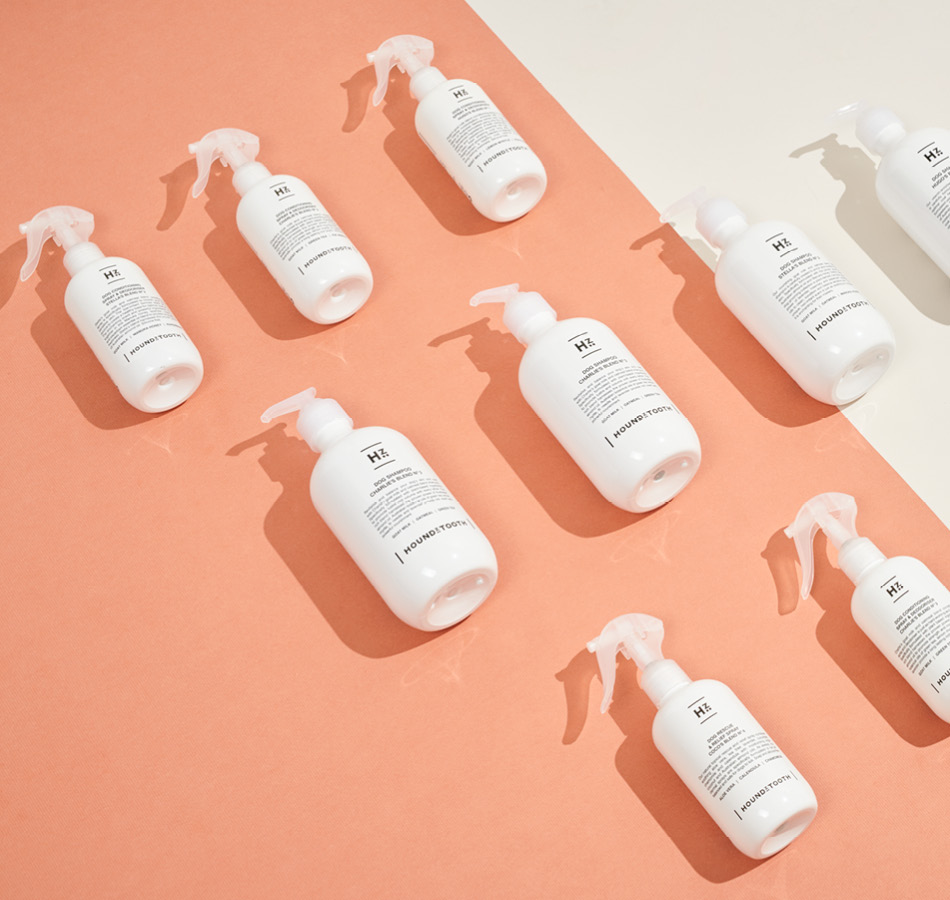 We are a big fan of the Houndztooth care line. This Australian brand contains 100% natural ingredients and is sustainably produced. In addition to shampoos, the care line also consists of conditioning spray & deodorisers. There are suitable shampoos and sprays available for every type of fur. The Houndztooth care line is exclusively available in Europe through our webshop, and we are very proud of that!
Even if you use natural care products, it is advisable to first test them on a small part of your dog's skin.
6. Have respect for all animals, and their habitat.
There is nothing better than taking your four-legged friend into nature! Dogs love to romp outside. Jump, run, roll. The wilder, the better. During your nature adventures, it is important to take other animals and their habitat into account. Only let your dog run free in places where this is permitted. Does your dog have a strong hunting instinct? Then try to be careful in areas where there are many birds and ducks. Certainly, during the breeding season.
In addition to respect for the animals in their natural environment, it is also crucial that your dog is social to other dogs. If you let your four-legged friend run loose, you must be sure that he listens well and is socialized. You want to prevent unpleasant or unsafe situations during your outing.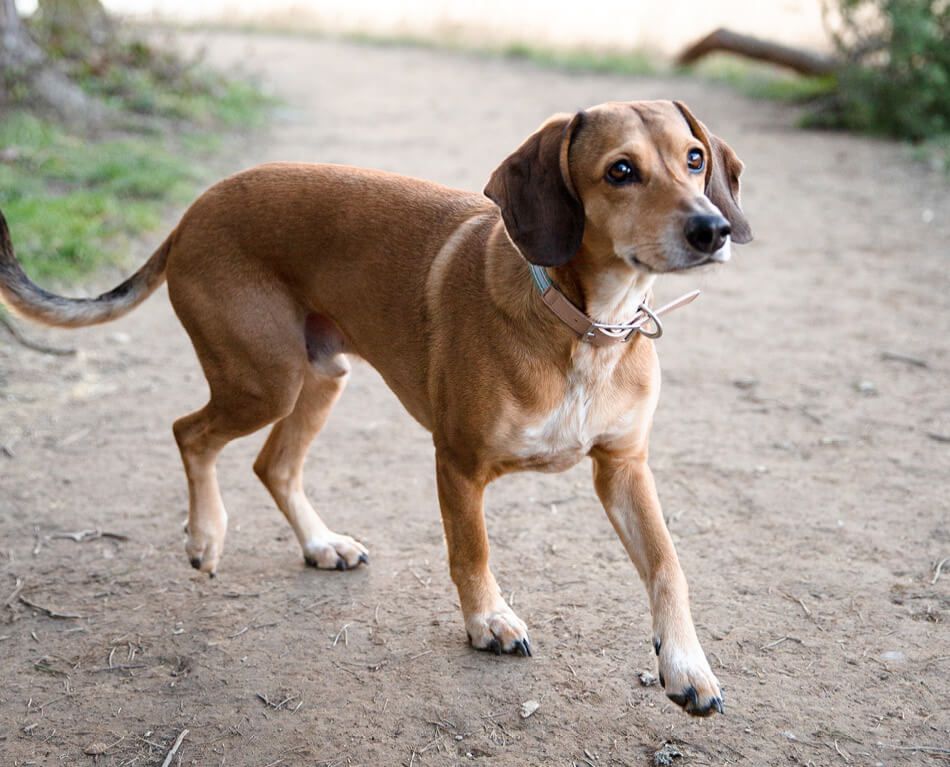 Collar Trix – Emerald
7. Is it for you or your dog?
The range of dog products is enormous. This does not always make it easy to choose the right products. You prefer to spoil your pooch with beautiful and fun stuff. But before you purchase, it is good to ask yourself if you need it when raising a puppy. Many products are offered that do not fall under the standard "essentials" and are therefore not required. By only purchasing products that your four-legged friend needs, you can reduce your paw-print. Also, it is good to see what material the product is made of – where and how the products are made.
For the essentials of your dog, it is best to choose products that are made from sustainable and natural materials. Choose a handmade, ceramic food bowl Instead of a plastic one – not only good for the environment but also your interior. Use compostable poop bags made from corn starch instead of the plastic version. Let your pooch dream on a beautiful organic cotton blanket instead of a fleece blanket.
8. Walk more!
Your dog is your best companion if you fancy a walk. This is not only good for your pooch but also for your health. Running a good deal every day will improve your health considerably. Besides that, walking is good for your dog and yourself; it is also better for the environment. So, leave your car more often and walk, alone or together, to the supermarket, your appointment or wherever you go.
9. Play a lot – preferably responsibly.
You don't want your four-legged friend to get bored, that's why toys are essential. If you choose a toy for your dog, look for toys made from recyclable, non-toxic, environmentally friendly materials.
We give our four-legged friend a natural, hemp rope. These ropes are ideal for puppies who love to gnaw. There are also more and more products on the market that are made from 100% natural rubber. This material is environmentally friendly, sturdy, and has no negative impact on the environment.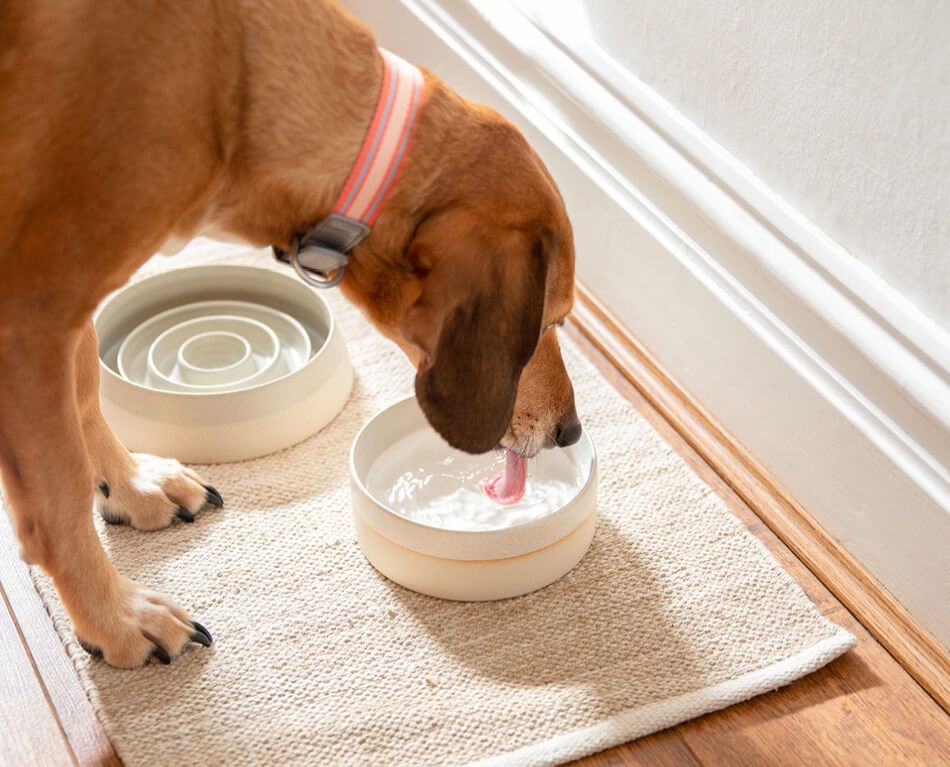 Slow feeder – Grey
10. Take good care and be responsible – receive unconditional love
As a well-known quote reads: A dog is the only creature on earth that loves you more than itself. And we can only confirm this! Your loyal pooch is always happy as soon as you come through the front door. It doesn't matter if you've been away for 5 minutes or a whole day. Your puppy greets you as if you have been travelling around the world.
You can't help but raise your puppy most sustainably and lovingly. And adjust the care accordingly. As soon as you see that happy face, you know for sure that you have found a friend for life. Raising a puppy is the best thing there is. And especially if you can do this with respect for people, animals, and the environment.
By choosing sustainable, responsible products, we can ensure that they become the norm instead of an exception! Here at Pawness, we made this our mission – Happiness for all pooches, their pals, and the planet we live in.
Source: Wholesome Culture
Sustainable Puppy Essentails