Pooches & their Pals: Edgar, Norman & Fred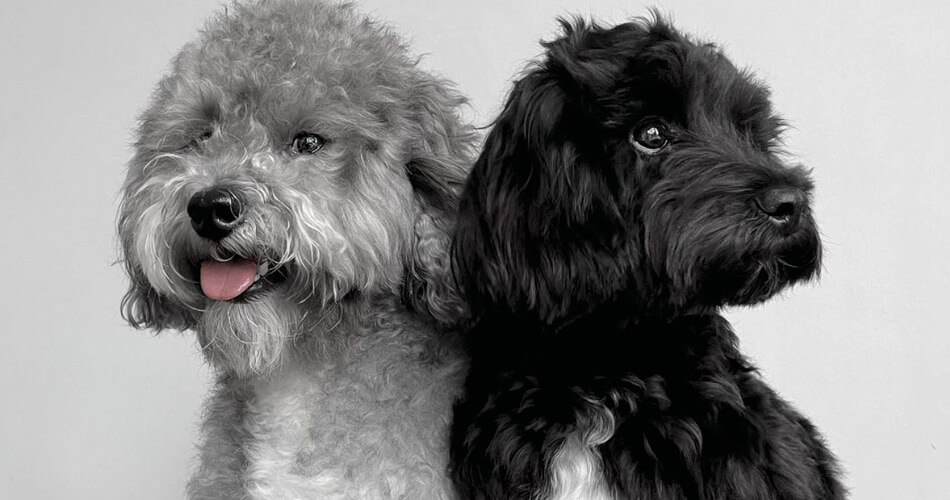 "Norman is definitely the younger sibling, and likes to get up to mischief, he is constantly stealing things from socks to shoes and even screwdrivers. "
Hi, nice to meet you! Can you tell us some more about Edgar & Norman?
Edgar and Norman are two shihpoo brothers from the Uk, Edgar is 3 and Norman is 1, they both have the same parents and are real life siblings!
What made you decide you need a dog (or two) in your life?
We first got Edgar in 2020. I had always wanted a dog and after a lot of persuasion we finally decided to get one, we spent a lot of time researching the breeds and their qualities, as we had a few specific criteria. After some time we came across the advert for Edgar's litter, and were taken aback by his dads unusual (grey) colour, And the rest is history !! Edgar fitted right into our lives and was such a cutie, and he certainly knew it!
A year and a half after we got Edgar, we heard that his mum and dad had had another litter of pups, at first we were sceptical about getting another one. would it be to much? but we knew how much we loved Edgar and how amazing he had been for us so we finally caved and decided to take his little brother Norman!!
I loved the idea of having a companion and a best friend, someone filled with unconditional love, that I could go on adventures and experience life with. I never thought that dogs would play such a big part in my life, but now I can't imagine life without them.

How did it go when Edgar and Norman met for the first time? Did they get along from the beginning?
Edgar had very much only child syndrome when we got Norman, he wasn't best impressed that we were bringing someone else into the house that also needed attention !! however as they gradually became more acquainted, they started to get on much better and became best friends. They both still playfight and argue like brothers some time, but they love each other.
How did you come up with the names Norman and Edgar?
There wasn't really any reasoning for their names, we had always like the more "human" names for a dog, so had a long list of names that we were considering for Edgar, we tried them all out when Edgar came home, but none of them suited his personality until we got to Edgar !! When it came to naming Norman, we wanted something that had a similar feeling to Edgar, so again had a few names on a shortlist. Unlike Edgar we knew Norman was Norman straight away !!

What is your daily routine?
A normal day for us is very relaxed. Both Edgar and Norman love a lie in, so generally don't want to get up for an early morning walk, however I eventually manage to drag them out the house !! We stop for an iced latte (and sometimes a puppachino) and go for a nice walk around a river near us.
Once we get back it is breakfast time, usually followed by Edgar and Norman play fighting before wearing themselves out and falling asleep until lunch. This is when I usually try and get some of my own work finished weather this is design work or applications for masters.
At lunch time we often get up and either have a play in the house and garden, or head out into town for a walk and a coffee and food date at some of our favourite dog friendly cafes. 

In the afternoon is when we have a relax together, and often try and get some content for Instagram, which both Edgar and Norman are professionals at now !!
The rest of our day doesn't involve much else at the moment, we occasionally do a third walk and stay in and cook and eat dinner together, Edgar usually takes himself off early to bed, he is super lazy ! and cuddles are a must in the evening!
Last question; what is a must-know funny story about Norman and Edgar?
Everything they do is funny, it's hard to think of just one story !! Norman is definitely the younger sibling, and likes to get up to mischief, he is constantly stealing things from socks to shoes and even screwdrivers !!! Edgar also likes to make it very clear he has had no involvement in anything of the sort (however he sometimes does and lets Norman get the blame).

Favourites of Edgar & Norman