Pooches & their Pals: Meet Romeo & Hiu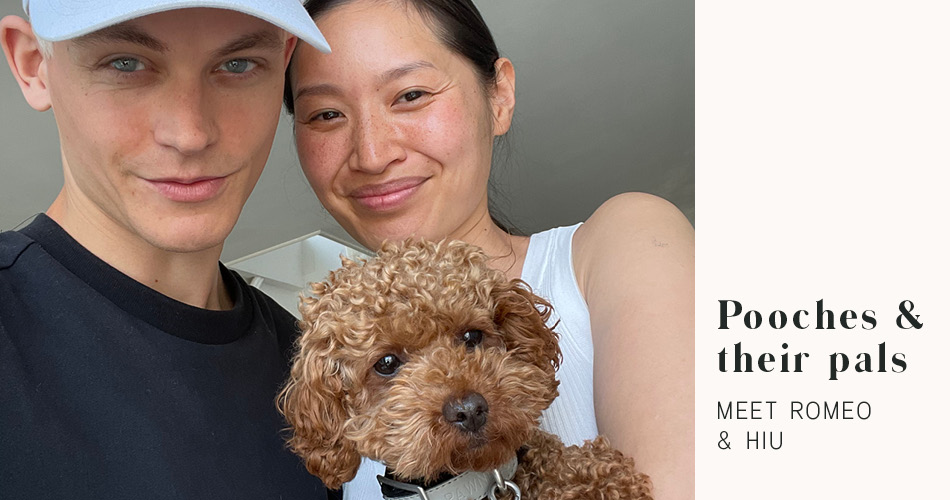 "He's from Italy and there is only one Italian name that could represent him, Romeo haha."
How did you meet Romeo?
We were in contact of our Italian breeder and she told me one of her dogs was giving birth soon. So when Romeo was born, in a litter of 3, we saw them all grow for a few weeks until we decided with our breeder which one fitted the most in our life. They were all very sweet and adorable but Romeo his playful personality and his awesome dark color attracted us the most.
What is the story of Romeo's name?
He's from Italy and there is only one Italian name that could represent him, Romeo haha. If you meet Romeo, you will fall in love with him. So the name suits him very well!

How do you like to spend a day together?
Romeo loves to sleep in! So definitely we will start the day with that haha. We will probably take the scooter to drive to a nice park or forest for a long off leash walkie. We'll be having lunch somewhere and Romeo will be getting a bite or 2 because we will tell him: "it's also a day off for you" We have a favorite Italian trattoria where he gets often prosciutto di parma from the owner. In the evening a nice long walkie in the city. Often we buy an icecream so Romeo gets a lickie too then. As you can read, he is kinda spoiled!
What is Romeo's funniest character trait?
Probably that he pushes everything with his nose! If we walk he pushes his nose onto our legs. But also if he wants something, his nose is pushing all those things. It's something his mom does too. It's super funny because he even pushes his nose on a stranger leg.
What aspect does sustainability play when you buy products for Romeo?
We love to have things with a low carbon print because we really care about our future and planet. In our daily life we try to have the same philosophy. And if it fits our minimalistic design wishes its definitely a winner!
Follow Romeo

https://www.instagram.com/poodletoyromeo/
Favourites of Romeo