Pooches & their Pals: Meet Bruno & Catrin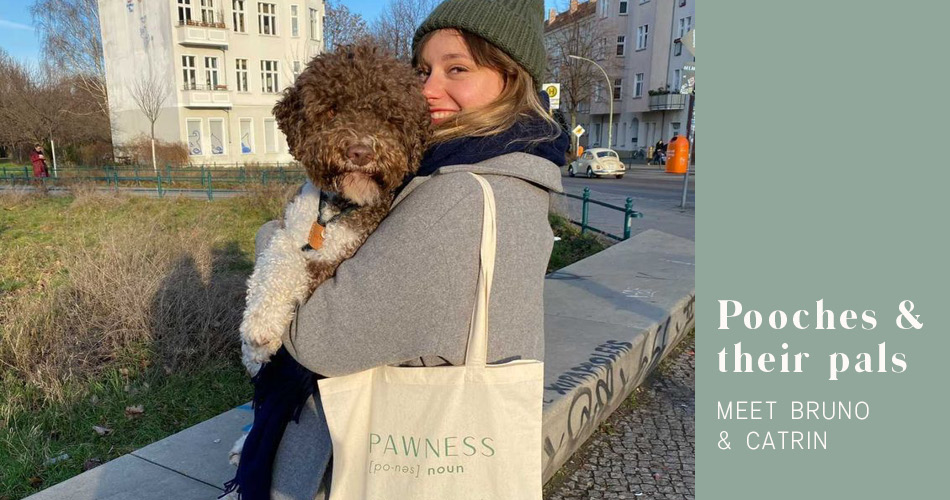 "When I saw his chubby, brown head I thought this is a Brun."
How did you meet Bruno?
Bruno and I first met at his breeder, when he was 4 weeks old. I saw a picture of him right after he was born and fell in love. When the breeder told me he was the chubbiest and wildest pup of the litter I knew we'd get along 😉
What is the story of Bruno's name?
Well when I saw his chubby, brown head I thought this is a Brun.
What is your daily routine?
We usually go for a long walk in the morning, right before I start working. Berlin is quite a green city and has a lot of big parks, woods and water. We live very close to a big park and the old Tempelhof airport, where Bruno can run, sniff and play with other dogs.  Afterwards he gets his breakfast and I sit down in front of my laptop, while he goes back to bed. We take another walk through our neighbourhood during lunchtime and again in the evening. Bruno's used to sleeping and resting, while I work but I really like to add some enrichment activities in between naps. As a working dog, he likes to be busy…
On weekends we go for even longer walks in the woods or by the lake and we've really come to love our man trailing training sessions.
How do you like to spend a day together?
By the water!!! (Bruno agrees 100%)
What is Bruno's favourite food?
The stuff that I don't feed him: Pasta & Bread (I wish I was kidding). But he's a real Italian after all…
What do you find important when purchasing products for Bruno?
For me it's most important, that I buy stuff that's healthy for him and doesn't harm anybody else. So sustainably produced items but at the same time they should look pretty. And I'm now looking for ways to keep Bruno's carbon footprint as low as possible. Let's see where this goes.
Follow Bruno

https://www.instagram.com/lagottobruno/
Favourites of Bruno