The natural grooming products for dogs from Houndztooth.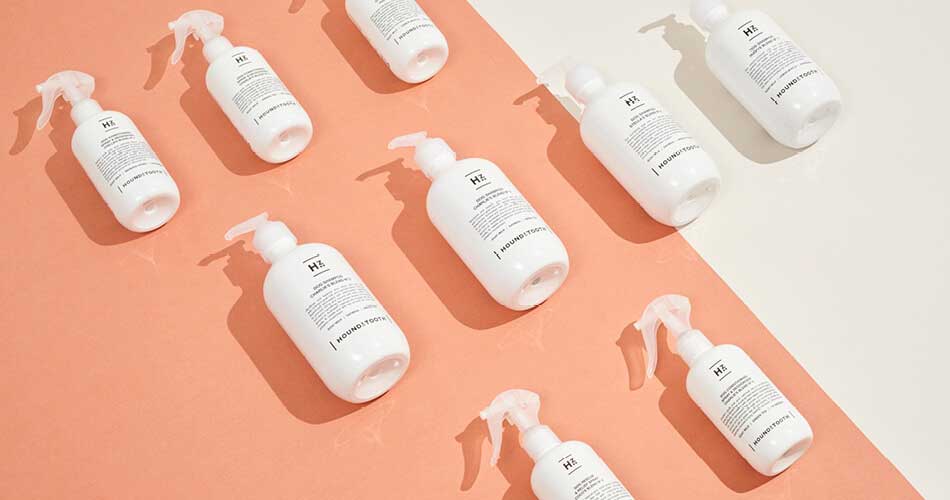 The Houndztooth natural grooming products for dogs are essentially little bottles of goodness. Firstly, they're not only keep your dogs skin and coat healthy and looking great. Secondly, they're also free from nasties that can hurt your four-legged friend or the environment.
Bathtime! The all natural dog shampoo from Houndztooth is here!
First up, all the products are cruelty-free and obviously, they're pet-friendly. Just like Pawness, Houndztooth are animal lovers. Their promise is to never ever use anything that could be harmful or sneaky in any of their grooming products.
Houndztooth shampoos and conditioners are all palm-oil free and paraben free. There is no Sodium Lauryl Sulfate (SLS) or EDTA which can both irritate the skin. No artificial colours, no harsh ingredients and no synthetic fragrances. Their products smell good because they contain real plant-based ingredients and Australian botanical essential oils!
Above all, the real trick with the natural grooming products for dogs from Houndztooth is that they work wonders on both the pup's fur and their skin.
Houndztooth is proud to be the first complete range of shampoos that use goat milk as a base. All Houndztooth shampoos and conditioners using this liquid goodness to balance your dog's skin and coat. And they don't mind boasting about it either!
For example, goats milk is a lovely, gentle ingredient that is packed full of ingredients to feed the skin such as vitamins A, C, D and E. It also has anti-inflammatory properties and can help treat eczema, psoriasis and dermatitis. If you have a dog with sensitive skin, the shampoos and conditioners are going to knock your socks off.
Don't surprise, there is oatmeal in the all natural shampoo for dogs!
Meanwhile, they also use oatmeal in Stella's and Charlie's blend Shampoos and Conditioning & Deodorising Sprays. Oatmeal has been used for hundreds of years to sooth itchy and irritated skin. It is a bit of a secret weapon for dogs with sensitive skin. And just in case your pup is allergic to oatmeal, Hugo's Blend NO.1 is oatmeal-free.
Houndztooth products contain virgin coconut oil which is arguably the best skin moisturiser out there (don't tell Nivea!) and has antibacterial properties.
Because nobody wants their best dog to have a bad hair day, they also use specially formulated plant-based ingredients to promote lustre and volume.
Each product contains a unique mix of Australian botanical essential oils to keep your pup smelling fresh:
However all products are free from nasties, every single pooch is different. Therefor, we recommend testing out the products on a small area of your dog's skin before full use.