Your dog's coat changes in the fall! Coat care tips from PAWNESS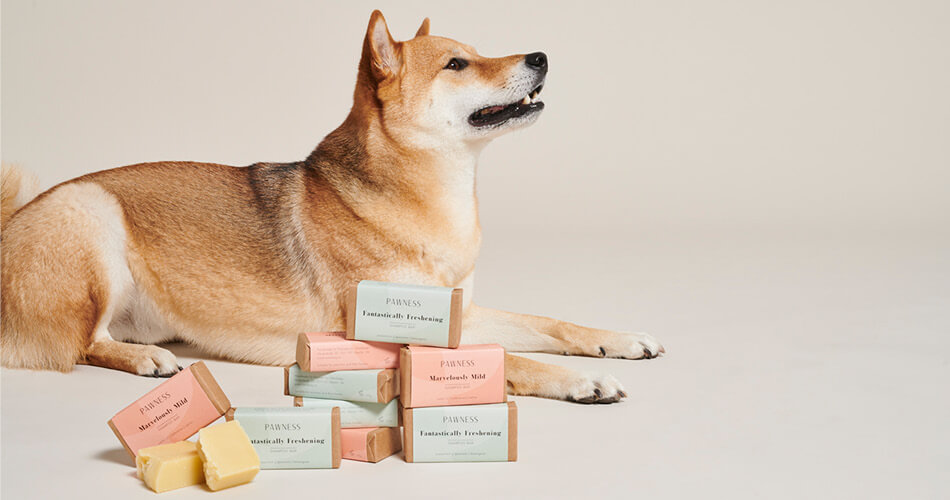 Autumn is approaching! Not only does this mean that the leaves are changing colors, but our furry friends are also shedding. It's the perfect time to treat your buddy to a nice wash and brush to counteract the shedding. A good dog shampoo and brush can make a huge difference in seasonal shedding in dogs. In this blog, we share some handy coat care tips for fall and introduce you to the natural coat care from Houndztooth, so you can pamper your buddy properly.
Dog shedding, seasonal coat changes in dogs
Autumn is known to most people for its beautiful, warm colors. But for us dog owners, it's also known for shedding. Once shedding starts and the winter coat is on its way, tufts of hair are everywhere! This seasonal coat change, the shedding, is nothing more than your dog exchanging its summer coat for a thicker and warmer winter coat.
But there's a silver lining! You can help your buddy get through this shedding period. Below, we provide several helpful tips so you don't have to reach for the vacuum multiple times a day.
Coat Care Tip Fall #1: Regular Brushing
To prevent your home from being flooded with hair, brushing your dog regularly is recommended. And by regularly, we mean a short brush every day. After 3 to 4 weeks, your dog will have its new winter coat, and you can return to your regular grooming routine. After brushing, wipe the coat with a damp cloth to remove extra loose hairs. Outside the shedding period, it's best to brush no more than once a week, as excessive brushing can worsen shedding. Make sure you use the right brush for your dog's coat type. For instance, we have the wooden vegan brush for long and fine coats and the vegan wood/nylon brush for short coats.

Coat Care Tip Fall

#2: Proper Nutrition

A healthy coat starts from the inside. Ensure your dog stays well-fed and hydrated. Choose food with the right amount of fatty acids to support the skin and coat. Many dogs benefit from switching to food richer in Omega 3 and 6 fatty acids. Adding fatty fish oil for dogs to their kibble can also be beneficial.
Coat Care Tip Fall

#3: Coat Care Products

Like humans, a good shampoo and healthy skin are key to a healthy coat. Since no nutrients are inside anymore, the hairs could use some external support to stay soft and shiny. At PAWNESS, we are big fans of the Houndztooth brand. Their range of shampoos and conditioning sprays are made with high-quality natural ingredients, which take good care of your dog's coat and skin.

Houndztooth products come in three different scents:
Hugo's Blend no.1 with the refreshing scent of lemon myrtle and peppermint mix. This shampoo is nourishing and moisturizing.
Stella's Blend no.2 with the sweet scent of manuka honey, lavender, rosemary, and niaouli. This shampoo is for sensitive and/or itchy skin and is antibacterial and hypoallergenic. Stella's Blend no.2 is also excellent for dogs with dandruff.
Charlie's Blend no.3 with the wonderful scent of green tea, lemon myrtle, pine needle, and lavender. This shampoo is formulated to balance and maintain sensitive and dry skin.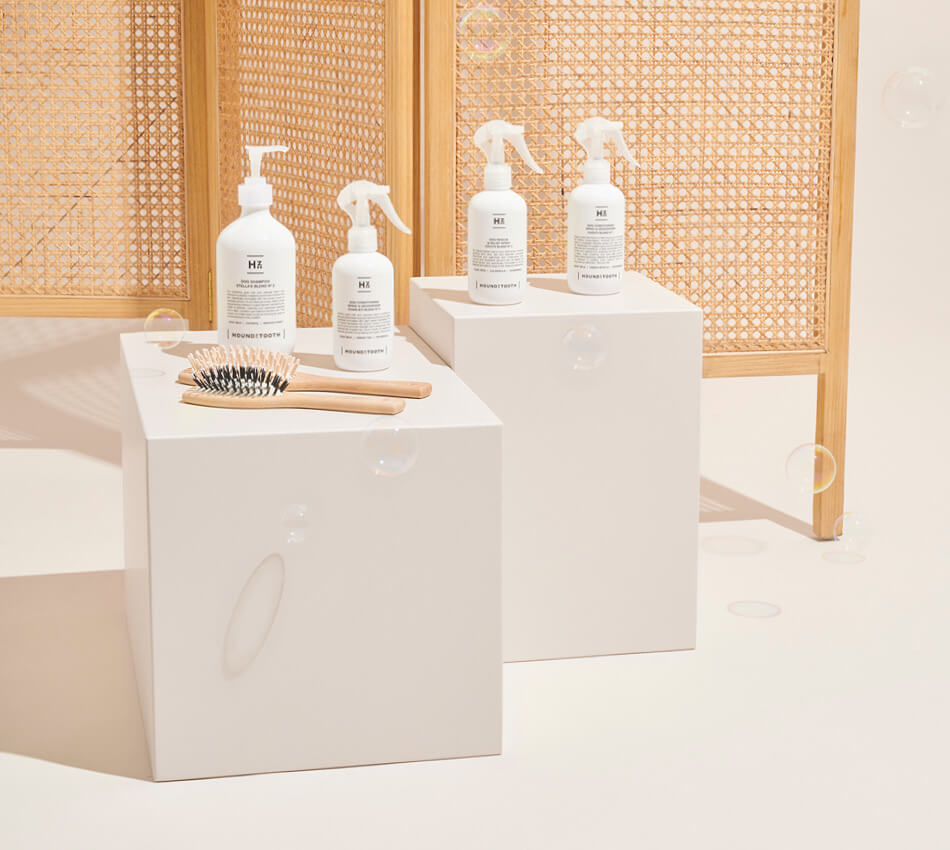 For those who prefer shampoo bars and want to use less plastic for their dogs, we have two in our line. The Fantastically Freshening shampoo bar for dogs smells like peppermint, spearmint, lemongrass, citronella, rosemary, and eucalyptus oil. And the Marvelously Mild shampoo bar for dogs with the scent of cedar, palmarosa, vetiver, patchouli, and turmeric.
Enjoy the autumn without all the hair. So, as the leaves fall and the temperature drops, pamper your dog with the best coat care. You ensure limited shedding by brushing regularly, providing the right nutrition, and using proper grooming products. Don't forget to enjoy the cosy moments after walks, perhaps with the PAWNESS – Cosy up kit.
Discover our Care Collection